< Back to list
How does the penalty system work on Alibaba.com?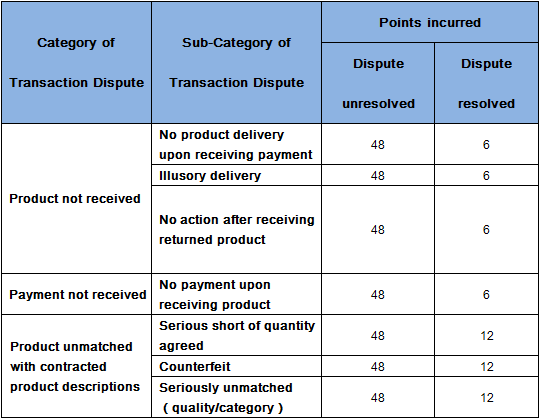 Note:
1. The above deduction shall be applicable to circumstances under which the party under complaint is liable.
2. Points shall be incurred against the seller where no product is received or product is not matched with contracted product descriptions, whereas points shall be incurred against the buyer where no payment is received.
3. No points shall be deducted against the party under complaint where the complaining party voluntarily withdraws the complaint before the case is closed.
4. Interpretation of the sub-category of transaction dispute:
No delivery upon receiving payment: The seller does not deliver product to the buyer by any reason upon receiving payment.
Illusory delivery: The seller presents forged evidence of delivery (such as invoice, waybill, bill of lading) but no product has been delivered indeed.
No action after receiving returned product: No further action to resolve dispute by the seller (such as refusal or unreasonable delay in delivery of a new product or refund, or unreachable) after the buyer has returned the product.
No payment upon receiving product: The buyer undertakes to pay upon receiving the product, but refuses to pay in full or in part, unreasonably postpones payment or is unreachable after receiving the product.
Serious short of quantity agreed: The quantity of the product received is apparently less than that agreed by both parties, or the loss incurred by the shortage is significant.
Counterfeit: The product received is not the agreed branded product as the buyer complaints, and the seller cannot provide proof of authorized dealer or proof of its own brand.
Seriously unmatched(quality/category): The characteristics (such as material, ingredients, or category) of the product received by the buyer are seriously unmatched with the agreed descriptions, or the product malfunctions or is unusable.
Attachment:: Enforcement actions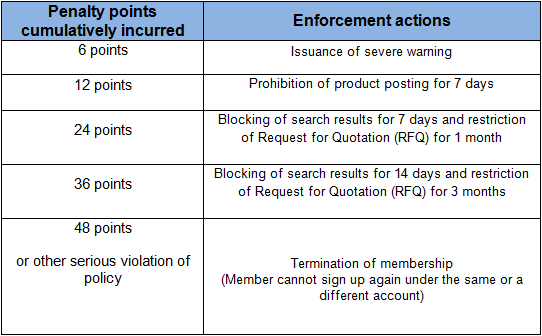 Note: 1.All penalty points shall be on record for a 365-day period.
2.Penalty point incurred under any category of violation across the platform shall be recorded in the integrated system and calculated for penalty purposes.
Is this information useful?
yes
no

Thank you for your feedback!
You may be interested in: