< Back to list
What can I do if my account has been deactivated?
Please be advised that the process for reactivating your account depends on the reasons why you account was deactivated.
Scene 1If you deactivated the account by yourself,in order to reactivate your self-deactivated account, kindly please follow below steps:
1. Please sign in your account with right registered email address and password.
2. Please click "click here" button after log in:


3. After clicking, your Alibaba account will be successfully reactivated:

Scene 2Deactivated due to security reasons:
If your account was deactivated due to reasons on Aliexpress,please click here to chat with Aliexpress customer service agent to reopen it.The Customer Service Team is online 24/7.

If your account was deactivated due to security reasons as below, please click "Appeal for account reactivation" button to appeal for reactivation online and submit the required documents. After that please wait about 3-5 business days for us to review your appeal.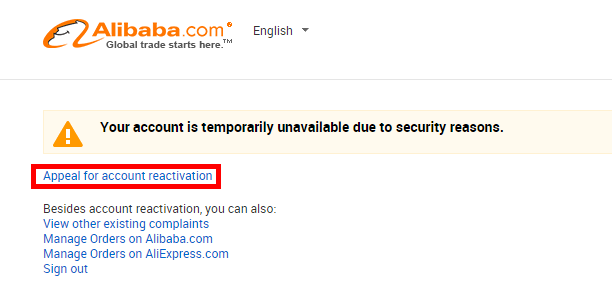 If you previously deactivated your account,please click on "click here"as below after you sign in to reactivate it.
If there is no button for you to "appeal for account reactivation" or "Click here" button to reactivate, please connect our live chat service below and a real representative will assist you.
Scene 3Deactivated by Aliexpress:
Please contact Aliexpress service team at:https://helppage.aliexpress.com/buyercenter/questionAnswer.htm
Is this information useful?
yes
no

Thank you for your feedback!
You may be interested in: