< Back to list
Easier search for RFQs -set my searches
My Search, Helping You to Find Buyers More Efficiently
We are delighted to inform you that we have launched a new function called My Search.
This function will help you to reduce the time and effort required to find the right buyers at Alibaba.com because it enables you to save your search. This means that you don't need to spend time looking for your preferred Buying Request (RFQ) every time you login.
You can search your required Buying Request by typing in keywords (e.g. product names etc.) and then save your customized search at the AliSource . In total, you can save up to 20 searches per account.
How to add My Searches?
When you are searching for buying requests at http://sourcing.alibaba.com/ with the keyword and it shall link you to the next page as shown below. You may click Add to My Searches and next time you can always find this key word at My Searches at the top right of the page:





How to use My Searches?
Next time, when you need to find the buyers according the same searching details, you simply click My Searches on the top right of the page on AliSource and click one key word in the list, the buying requests list related to this searching details will be displayed: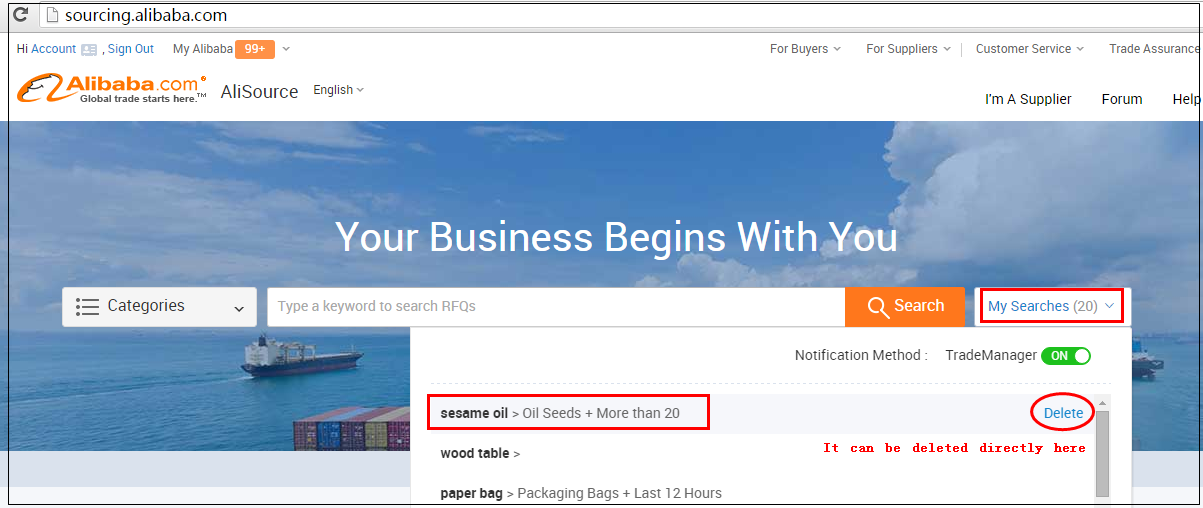 How to manage My Searches?
It is not available to edit My Searches. You may delete it sirectly on AliSource according to the above screenshot and then add a new one. You may also choose Trade Manager as a notification method so that you get a message once there are updated buying requests regarding the key words.
Is this information useful?
Yes
No

Thank you for your feedback!