< Back to list
How does Secure Payment work?
Your payment is held in Secure Payment until you confirm order delivery or it's overdue. Currently, Secure Payment can only be used for Express Shipping Orders from Alibaba.com Wholesaler.
Buyers can follow these steps:
1. Go to Wholesaler and search for products
2. Find the products you are interested and then click 'Buy Now'
3. Confirm the order information and click 'Place Order'
4. Click 'Pay Now'

5. Choose the correct payment method, fill in your payment details, and then click 'Pay Now'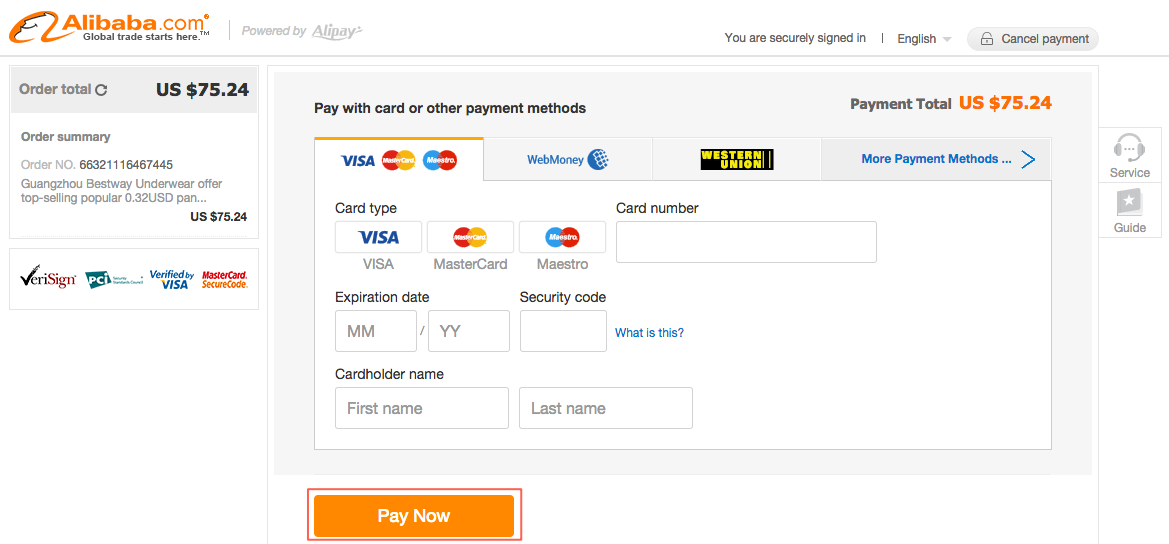 Your payment will be held securely in Secure Payment and will only be released to the supplier after you confirm order delivery.
6. Wait for delivery of your order
You can check the shipping status of your orders in "All Orders" under "Order Management" in My Alibaba. If you require specific shipping information, please contact the supplier directly.
7. After you have received your order, please click 'Confirm Order Received'.
After you have confirmed order delivery, your payment will be released to the supplier.
Is this information useful?
yes
no

Thank you for your feedback!
You may be interested in: